Exceptional chromatography resins – when you need them
In these times of increased need, it's more important than ever to ensure fast and reliable delivery of critical bioprocess supplies.
But resin supply lead times from many suppliers are instead being extended by several months. Bio-Works can offer a solution.
We're here to ensure you don't have to worry about this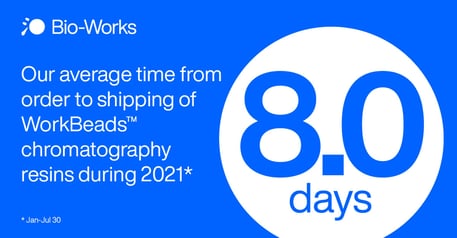 We currently ship resins in an average time of 8 days after the order is placed. WorkBeads resins pre-packed in BabyBio or OptioBio columns, and other stocked items, can be delivered much faster of course.
We've increased capacity, to keep you covered
Our processed orders increased by 59% in the first half of 2021 and our production volume went up by 146%. We're still holding 100% delivery-on-time (well, there was that one delivery that was a little early…).