Interim report 2023
Bio-Works' 2023 Interim report highlights a continued 22% sales growth, primarily driven by the company's portfolio of high-value products: GoBio prepacked columns, custom resin solutions and affinity resins. This reflects Bio-Works belief that the market for biological therapies continues to diversify and the need for diversified purification tools is growing rapidly. From a regional perspective, the North American and European markets both grew over 30%, while Asia declined during the period.
Discover how we continue to embrace the rapidly diversifying biotech industry, but also taking necessary action to secure the company's path to profitability.
4 Reasons to invest in Bio-Works
An investment in Bio-Works allows participation in the expansive biotechnology sector but with a lower risk profile.
Bio-Works generates revenue in the early phases of a biotherapeutics' development, long before the approval of the drug substance.
There is a strong market demand for suppliers of chromatography resins who can offer alternatives to the few that have dominated the market for decades.
Bio-Works has the foundational cornerstones in place and is well-positioned for expansive growth without large investments in the near future.
Latest press release (in Swedish)
Bio-Works Technologies genomför en riktad nyemission och tillförs därigenom cirka 30 miljoner kronor samt kommunicerar mål om utökad kostnadsreduktion
Read press release
Financial calendar
2024-02-19
Year end report - 2023
2024-05-24
Annual general meeting
Contact - Investor relations
Investor relations
Jonathan Royce
Chief Executive Officer, Bio-Works Technologies
Certified adviser
FNCA Sweden AB
Certified adviser, Bio-Works Technologies
First North Disclaimer
First North is an alternative marketplace operated by an exchange within the NASDAQ OMX group. Companies on First North are not subject to the same rules as companies on the regulated main market. Instead they are subject to a less extensive set of rules and regulations adjusted to small growth companies. The risk in investing in a company on First North may therefore be higher than investing in a company on the main market. All companies with shares traded on First North have a Certified Adviser who monitors that the rules are followed. The Exchange approves the application for admission to trading.
Nasdaq ESG Transparency Partner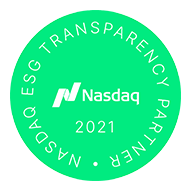 Bio-Works is a certified Nasdaq ESG Transparency Partner. This certification is used by Nasdaq to signal engagement in market transparency and in raising environmental standards. The Nasdaq ESG Matrix includes data points from Environmental, Social, Corporate Governance.