Interview with Dr. Yong Chul Shin, CEO of Amicogen Inc.
December 13, 2017 / erik abrahamsson
Amicogen Inc. is the largest shareholder in Bio-Works Technologies AB as of today, with slighty less than 10% of the shares. The planned listing on First North Stockholm is set to 14th of december.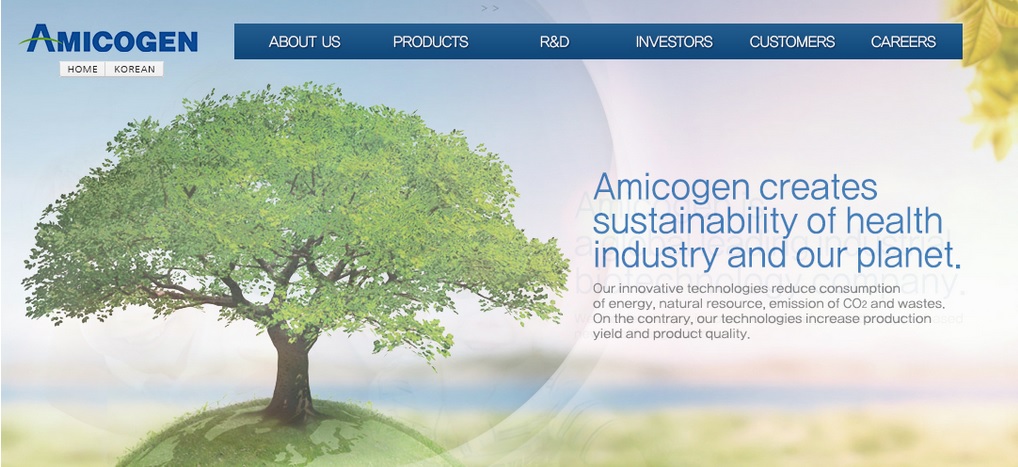 1. What do you think makes Bio-Works unique?
"Bio-Works has developed a protein purification resin optimized for its customers through its long experience and technology development. Bio-Works has a unique patent on manufacturing agarose beads and Bio-works' bead has the advantage of being harder than existing agarose resins, increasing binding capacity, reducing working time by increasing flow rate. Bio-Works also differentiates itself from competitors such as GE Healthcare, which dominates the existing global market by more than 70%. Bio-Works targets small and medium-sized organizations (universities, research institutes, etc.) or companies that our competitors do not offer enough technical support to. Biopharmaceuticals are expected to develop further in the future, and as these early-stage companies and medium-sized enterprises grow into large corporations, Bio-Works' business will grow alongside them. Bio-Works distinguishes itself from existing companies in terms of products (technology) and customer target."
2. Please explain the synergies of the collaboration between Amicogen and Bio-Works.
"Amicogen is a protein engineering company specializing in industrial enzymes and protein A for antibody purification. In recent years, Amicogen has developed a ligand that retains its activity at the time of cleaning in place (CIP) by imparting alkali resistance to Protein A. In order to make a "protein purification resin" using an affinity ligand developed by Amicogen, stable agarose resin is required. Amicogen started working with Bio-works, which has a competitive agarose resin manufacturing technology. Amicogen and Bio-Works will continue to jointly develop various affinity resins for antibody purification and combine our strengths to create synergies that will enable us to produce the best products. In addition, the city of Uppsala, Sweden, where Bio-Works is located, is the world's best city in the field of protein purification resins. On the other hand, Korea, where Amicogen is located, will have the largest production capacity of biosimilars in the world by 2018, as well as a number of start-ups and small- and medium-sized companies in the biopharmaceutical sector. Amicogen is planning to sell Bio-Works's protein purification resins to Korea, China and Southeast Asian markets and has already started doing so in Korea. Considering the above, we believe that both companies will have great synergies not only in terms of technology but also in business."
3. Where do you see the Amicogen and Bio-Works collaboration in three years?
"Amicogen will work with Bio-Works to develop alkali-resistant Protein A resins and introduce Bio-Works protein purification resins to the Korean market, and provide sales and technical support services. As already discussed, Korea has the largest biosimilars production facility in the world, and there are many initial companies and small and medium sized enterprises. This environment is expected to lead to opportunities for protein purification resin business in Korea. Amicogen plans to launch Bio-Works products in the Chinese market through its Chinese subsidiary (Amicogen China Biopharm, LLC). Next, Amicogen will expand its business to Southeast Asian markets, including India. In recent years, India and China have been expanding their biopharmaceutical market based on a strong growing domestic market, and their marketability is very high. In the future, the production capacity of Bio-Works will be insufficient. Amicogen hopes to cooperate with Bio-Works to build a second Bio-Works factory in Korea and to promote its business to supply products to China and Asia."
4. Who are the costumers that are underserved today in the market and how do you plan on serving them?
"In Korea, GE Healthcare (GEHC), which occupies 70% of the global market for agarose resins, is almost monopolized. Since GEHC mainly cares about large companies as customers, early companies and small and medium-sized enterprises are not receiving enough services for protein purification resin and resin technology. Amicogen and Bio-Works are working to target these potential companies. On the other hand, large companies are also looking for a new reliable protein purification resin supplier that can compete with GEHC. This is because there is no price bargaining power due to GEHC's exclusive market position, and if GEHC's product supply is unstable, there will be a serious problem that stops research or production of its own new drugs. As a Korean company, Amicogen is able to maintain a close relationship with Korean companies and will quickly meet the needs of customers by providing products and technical support that they want."

5. Explain the importance of protein A in development and production of biosimilars.
"Protein A is a resin that is essential for the production of antibody biosimilars and is critical in the purification process. The reason is that Protein A has a specific affinity for the antibody, so that high purity antibody can be obtained in an animal cell culture with a single step alone. On the market, Protein A is considerably more expensive than other resins, so good-quality resins are preferred, and more than 100 times of reusable alkali-resistant Protein A resins are required. In detail, Protein A resin is cleaned by alkaline washing (CIP) using Sodium hydroxide (NaOH) after the antibody is purified. It can be used for next antibody purification. Therefore, customers need alkali-stable Protein A resin in order to maximize the use of resin. Bio-Works and Amicogen will release alkali-resistant Protein A resins to meet the needs of the industry. Considering that most of the recently developed biosimilars are antibody-based biopharmaceuticals, the market for Protein A resins is expected to grow rapidly as the market for biosimilars grows."
6. How can producers of biosimilars benefit by using Amicogen and Bio-Works products instead of competitor's products?
"The development of biotechnology has shifted the pharmaceutical market from synthetic drugs to biopharmaceuticals. For example, the share of biopharmaceuticals in total pharmaceuticals is expected to increase gradually from 19.9% ​​in 2016 to 23.4% in 2021. In particular, among biopharmaceuticals, the biosimilar market, which is a replication drug, is rapidly expanding due to budget cuts in the medical sector and patent expiration of blockbuster biopharmaceuticals. On the other hand, as the market is getting bigger, competition among companies is expected to become more intense. In the end, price competitiveness will be the most important factor in survival. In order to be competitive in price, production cost should be reduced as much as possible.
Firstly, Amicogen and Bio-Works's products have higher caustic ratios than their competitors. The compact, high-density resin has a higher resolution than other products and has high durability to maintain performance at high flow rates. In addition, by offering competitive resin prices, customers can use our products to secure price competitiveness of their products. Secondly, it is customized technical support service. Customers require optimized production processes to go through technical support services. Protein-based biosimilars have a much more complex molecular structure than the chemically based generics. That is, in order to increase the production efficiency, a resin and a purification process should be established taking into account the characteristics of the product (protein drug). We, Amicogen and Bio-Works, will cooperate in establishing the optimal purification process by participating from the customer's biosimilar development stage."
7. Can you provide some insight into the biologics and biosimilars market in South-Korea and how it is developing?
"For the success of the biosimilars market, it is crucial to having price competitiveness through large-scale facility investments and to leading the global market after the expiration of patents for biosimilars. Although Korea did not have a production facility before 2009, it is emerging as a major producer with aggressive investment by Korean companies. For example, Celltrion plans to build a new plant to hold a production capacity of 310,000 liters per year by 2019, and Samsung Bio Logics plans to increase production capacity by 2018 to 360,000 liters per year, which means the world's largest capacity of CMO manufacturing. In addition, Korea's biomedical market, which has been growing mainly in large corporations so far, has been showing a lot of technological start-up companies through strong government policies. In particular, large companies such as Hanmi Pharm are establishing mutually cooperative partnerships through open innovation, such as investing in initial companies and conducting clinical trials with technology transfer. The Korean government is continuously expanding R & D investment, fund management, and clinical infrastructure building to promote the bio-industry. For example, the government has invested KRW 234.4 billion in innovative drug development research in 2016, and operates a global pharmaceutical fund to strengthen domestic drug development capabilities. As a result, the number of new drug products increased to 28 in August 2017, and licensing-out also increased, resulting in revenue of more than KRW 3 trillion through 11 technology export contracts in 2016. Through such win-win partnerships and strong government support, Korea's biomedical market is expected to grow significantly in the future."
8. Why and in what way are companies like Samsung, Celltrion and others investing in this market and how is your relationship with them?
"The start-up and growth of biotechnology companies are also important for the government, universities, and citizens to support the bio-industry as future food. Korea has a well-established system for mass production of precision and high-tech products such as semiconductors, mobile phones, LCDs, and chemical products. Although Korea is a very small country, it is the 8th largest (2016) exporting country and has national competitiveness. In addition to large corporations based on this environment, many bio companies have been established in Korea and are challenging the future biopharmaceutical market. Research initially focused on the development and commercialization of biosimilars (generic products for biopharmaceuticals), but at the same time focusing on the development of new biopharmaceuticals.
Amicogen is a company founded by scientists from universities and research institutes, and maintains a close network of biotech researchers in Korea. In addition, we can better understand the Korean market than foreign companies (such as GEHC), and can quickly provide products and technologies to meet customers' needs. Korea is a rapidly growing market for biopharmaceuticals, and there are many opportunities for Bio-Works to enter the market. Amicogen expects the collaboration business with Bio-Works to grow significantly in the future."
Read the interview through the original source