Affordable and safe biosimilars for affordable healthcare
October 2, 2019 / The Bio-Works Team
When it comes to many serious and challenging diseases, healthcare has reached a point of unsustainability, due to drug costs. For example, sustained therapy for an autoimmune disease or cancer, involving large amounts of monoclonal antibodies (mAbs), might not be a viable option for simple economic reasons. As a consequence, healthcare authorities want to reduce the cost of drugs by encouraging the development of biosimilars. When biological drugs are off-patent they can be copied – which is cheaper than developing the novel drug, but still challenging because of the need to demonstrate the same efficacy and safety. Drug purification, a key to successful manufacture of biologicals, must also adapt by exploiting products and technologies that lower the overall cost of production.
The healthcare industry, as it exists today throughout the world, bears difficult challenges. Pharma and biotech companies deliver important value to healthcare - through increased medical knowledge and advances in biotechnology they develop products that can be brought to the aid of patients. In the field of biologicals, they develop novel medicines such as monoclonal antibodies that treat cancer and autoimmune diseases - a highly complex and expensive task involving genetic engineering, cell culture and purification as well as running the clinical trials to achieve regulatory approval. All this is very costly with low odds of success. At the same time, pharma and biotech companies must be economically sustainable, which means they must be profitable, and, often considered more important, they must have the potential for growth. Once you put the initiative of affordable healthcare into the picture, a conundrum arises. How do you keep companies successful at the same time as keeping patient care costs as low as possible?
Biosimilars have been thrown into the middle of this complex dilemma. Whilst pharmaceutical companies find it increasingly hard to develop novel, effective, molecular entities and bring them to patients, companies developing biosimilars have been encouraged by those responsible for healthcare programs around the world.
In China and India, biosimilars have been the normal route to access advanced biological medicines. A recombinant interferon alfa biosimilar was introduced in China already in 1989, and a recombinant erythropoietin biosimilar became available in India in 2001. In contrast, the first biosimilar in Europe was not introduced until 2006 (recombinant human growth hormone), and the USA had to wait until 2014 (filgrastim) - primarily due to regulatory hurdles.
Looking broadly at the monoclonal antibody (mAb) and related molecules area, in "the West" we now have 6 original molecules (RemicadeTM/infliximab, EnbrelTM/etanercept, HumiraTM/adalimumab, AvastinTM/bevacizumab, HerceptinTM/trastizumab and RituxanTM/MabTheraTM/rituximab) challenged by biosimilars (https://www.centerforbiosimilars.com/infographics/the-complete-guide-to-monoclonal-antibody-and-granulocytecolony-stimulating-factor-biosimilars-approved-in-the-united-states-and-european-union). 2017 was a boom year, with almost half of the mAb approvals being biosimilars
mAb approvals/year from 2012 – 2018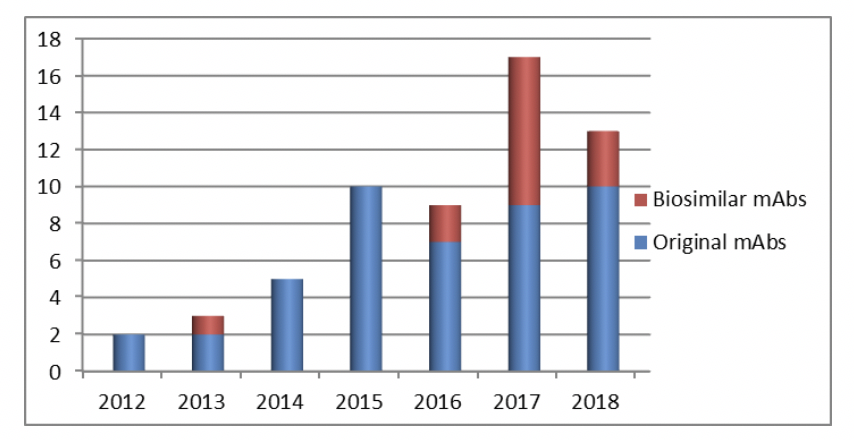 However, in 2018 there were only 3 mAb biosimilars approved by the FDA
[*]
. It will be interesting to see how 2019 turns out and to follow the impact of much discussed and anticipated regulatory changes such as those related to interchangeability or to the need for clinical trials.
One thing that manufacturers of the original biotherapeutics and biosimilars have in common is the need to reduce production costs. For mAbs, as expression levels in bioreactors have increased, the pressure has become increasingly focused on downstream processing. Suppliers of protein A media in particular have developed resins with higher capacities as well as addressing ways to increase the useful life of packed columns. Here at Bio-Works we are making our contribution by providing affordable purification strategies. We aim to produce state-of-the-art resins at competitive prices, as well as studying innovative approaches to conserve protein A resin performance. Take a look at our latest developments, you may find them helpful!
* https://www.fda.gov/downloads/Drugs/DevelopmentApprovalProcess/DrugInnovation/UCM629290.pdf
All product and company names marked with ™ are trademarks or registered trademarks of Bio-Works or of the respective trademark holders. Use by Bio-Works of trademarks of other holders does not imply any affiliation with or endorsement by them.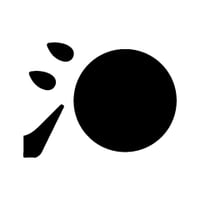 The Bio-Works staff are seasoned and enthusiastic (yes, even a bit nerdy) experts in purification resins, methods and strategies with many years of experience of the ins and outs of this field. We love our job and we'd love to help you do yours by sharing some good solid facts, principles and best practice. In short – "purification made simple".