The promise and the price of the new biopharmaceuticals
April 11, 2019 / The Bio-Works Team
The healthcare sector and developers of new pharmaceuticals are facing increasing challenges, along with pressure to lower costs. At the same time pharmaceutical development is undergoing a revolution with the use of biological substances as therapeutics.
We took a general look at some aspects of the biopharmaceutical industry today, the particular cost challenges facing chromatographic purification of biomolecules and some means of increasing chromatography efficiency that are close to hand.
Future healthcare is facing major challenges
The healthcare sector and developers of new pharmaceuticals are increasingly facing their greatest challenges due to an increasing and ageing population. The global population is increasing by 1.24 percent per year towards 2030 and the proportion of people aged 65 to 80 is predicted to rise to 28 percent, compared to 22 percent in 2000. More people are travelling and moving in an increasing urbanization trend, promoting the spread of infections due to increased exposure and a rising prevalence of multi-antibiotic-resistant bacterial strains.
A growing middle class provides prerequisites for making drugs available and affordable for more people, which also leads to a higher demand for medication. In some of the most populated countries, however, the growth of the middle class brings with it an increase in the prevalence of diseases such as diabetes and these large populations will not be able to afford to pay as much for treatments per person as some countries do today.
Biological drugs are the front line of new treatments
At the same time as the pressure to lower costs increases, pharmaceutical development is undergoing a revolution with the use of biological substances as therapeutics.
A biopharmaceutical is a pharmaceutical drug of biological origin and these often represent the front line of new treatments, offering in many cases the most effective means to treat conditions where no alternative exists. They are the most rapidly growing class of pharmaceuticals
Biopharmaceutical products include monoclonal antibodies, recombinant growth factors, proteins, hormones, immunomodulators, vaccines, and recombinant enzymes. Biologics can be composed of sugars, proteins, or nucleic acids or complex combinations of these substances, or may be living cells or tissues.
Unprecedented growth in the biopharma industry
The biopharma industry has shown unprecedented growth. In 2015, the global market for biopharmaceuticals was valued at USD 176.9 billion. By 2016 it was estimated at USD 192.2 million and is projected to reach USD 291 billion by the year 2021. It is expected to register a compound annual growth rate of about 8.59% during the period 2018-2023 and predicted to continue at that rate for the foreseeable future.
It is anticipated that within the next 5 to 10 years, up to 50% of all drugs in development will be biopharmaceuticals.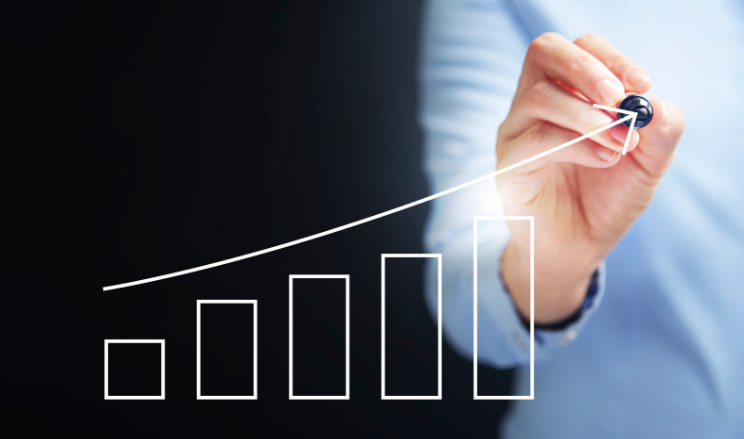 Biopharmaceuticals are fast moving into the mainstream
Biopharma products promise higher efficacy and safety as compared to conventional synthesized pharma products, as they are derived from biological sources (although this aspect also brings potential risks such as contamination with viruses and inappropriate immune system responses) and increased possibilities of targeting the exact cause of disease.
The promises of biopharmaceuticals allow pharma companies to command high prices for these innovative drugs.
Biopharmaceuticals have set new standards for blockbuster drugs; the top 15 biopharma products each enjoy annual revenue of more than USD 2 billion. All this considered, it's no surprise that major pharmaceutical companies around the world are increasingly shifting their focus towards biopharmaceutical products.
Biopharmaceuticals are not without their own challenges
In general, the larger biological substances such as monoclonal antibodies, viruses and nucleic acids are difficult to handle because they are complex and sensitive mixtures that are not trivial to purify, characterize or analyze. They tend to aggregate, break down and can be contaminated from their source material.
The market growth of biopharmaceuticals is hindered by advanced manufacturing requirements and complicated regulatory requirements.
Furthermore, the path to any pharmaceutical product is a complex one, from discovery, through development and scale-up of robust processes, to quality control in routine manufacturing. Optimizing all parameters to ensure final product quality and patient safety is a Herculean task.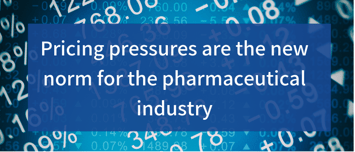 Drug prices are being forced down by three main factors: government pressure, the rise of generics and so-called biosimilars and patent expiry.
The United States allows drug pricing to be determined by market competition. It is the world's most lucrative market for manufacturers, with higher drug prices than in countries where governments directly or indirectly control costs.
Lowering prescription drug prices was a top priority in President Trump's 2016 presidential campaign. The U.S. Department of Health and Human Services has proposed a range of policies aimed at lowering prices and passing more of the discounts negotiated by health insurers on to patients. However, big pharmaceutical companies are going against this by increasing the cost of over 100 medications.
The high price of biopharmaceuticals is expected to lead governments to actively promote the use of generics and biosimilars, putting further pressure on prices. Countries with publicly financed health care systems, for example Germany, Canada, Denmark, Sweden and the Netherlands, have introduced incentive programs to facilitate prescription of alternative, equivalent and cheaper versions of branded drugs.
The market growth of the competing biosimilars is expected to be further facilitated by the loss of patent protection for the best-selling biopharmaceuticals. In 2016, revenue was reduced by around $10 billion for key pharmaceutical companies collectively, because of loss of exclusivity. In some countries (like Italy), the generics market already makes up a major percent of volume sales, and the increase in consumption of generics and biosimilars is not anticipated to decrease in the near future.
"The consequences of these pricing pressures has led to the need for more specific, robust purification techniques that can drive down the cost of biopharmaceutical production and bring more affordable drugs to patients to increase quality of life. The diverse nature of the biopharmaceuticals in production means it is very difficult to have just one solution to all potential products.
Bioprocessing must become more efficient through more specific purification tools to increase purity, more robust processes to reduce cost of goods, and more efficient use of facilities to manufacture more products in shorter times.
It is now more important than ever to develop new processes quickly to address the even more demanding need for biopharmaceuticals."
Stuart Jordan, Principal Scientist, Purification Technologies & Enzymes at Novo Nordisk Pharmatech A/S.
Protein A costs are in focus for monoclonal antibody production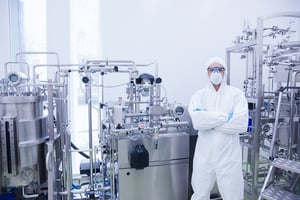 Savings in time and costs are higher on the agenda of production process planning than ever before. Many of the latest trends in optimizing process economics focus on use of single-use systems and continuous processing but there are other, more immediate means of cost reduction that could help a bioprocess become more sustainable. Amongst these are methods that aim to get the most out of chromatography resins.
For example, monoclonal antibodies (mAbs) are the dominating type of biological drug in development and on the market.
Antibodies are large molecules and therefore the pores in the beads must be large enough for the molecules to enter. Large pores, however, might make the beads soft and prone to collapse at high flow rates. A resin manufacturer must therefore use some sort of cross-linking technology to make the walls rigid enough, so that the beads can retain their shape even when exposed to the higher pressures when high flow rates are used. Porous beads with a high mechanical stability are thus important for an efficient resin.
In the purification of mAbs, the costliest step is affinity chromatography using protein A. Affinity chromatography is the backbone of the purification process, which in a single step, generates high purity and, in most cases, high yield. The protein A column is not only the most expensive tool, but will typically be used at the start of the purification process, when the feed is full of impurities, so a wise strategy would be to try to extend its life span.
It might also make sense to remove a lot of impurities before affinity chromatography in order to protect the protein A column and reduce the need for cleaning in place (CIP). This could all be achieved by using a guard column.
Read about the benefits of introducing multimodal ion exchange chromatography as a guard column to bring about a significant increase in mAb purity.
"Development of cell lines that give pure biotherapeutics with little purification and manipulation is still a long way off so in the meantime it is up to companies such as Bio-Works to develop more efficient purification tools. The industry is slowly seeing the development of new techniques that move away from slow, high cost purification using chromatography but we still need better chromatography products to help in bioprocessing now while these new techniques are in development and are adopted by industry".
Stuart Jordan, Principal Scientist, Purification Technologies & Enzymes at Novo Nordisk Pharmatech A/S.
Many costs are impacted by a high dynamic binding capacity
A high flow rate through chromatography columns will of course speed up the purification process, but there is no point in using a high flow rate if the target molecule does not have the time to bind to the resin. A high dynamic binding capacity is thus an important measurable characteristic of an efficient protein A resin for mAbs (see A novel protein A-based resin for optimized purification of antibodies).
With a high dynamic binding capacity, it's possible to bind more mAbs per ml of resin (expressed as grams per liter of resin in industrial processes). Smaller columns and less resin are thus required to bind the same amount of mAbs, as well as smaller buffer vessels, which, in the manufacturing set-up, decrease the footprint. Smaller columns can also have unexpected benefits, such as shortening the time for cleaning-in-place. In fact, just about everything that costs money will be impacted by a high dynamic binding capacity – column sizes, resin volumes, buffer volumes, cleaning agent volumes, equipment footprints, processing times, etc.
A high dynamic binding capacity allows for binding of a lot of mAbs with a small amount of resin at a high flow rate. The thing to look for is thus a high dynamic binding capacity allowing short residence times – this is the most important key to improving process economy. But, as in most things in real life, there can be trade-offs.
Read more about high dynamic binding capacity here
We can count on a steady improvement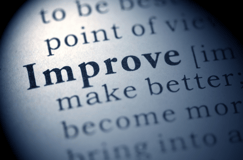 It is, in all, a major challenge to address new markets and therapeutic regimes, new regulatory requirements, increasing competition, complex purification processes, and mixed continuous-discrete operations that are part and parcel of biopharmaceutical operations today.
Bioprocessing efficiency and productivity will, no doubt, continue to steadily increase, and drug developers and bioprocessing suppliers will spend time and effort assessing alternative technologies, process developments, and manufacturing options. There has always been pressure to strive towards improving productivity, cost savings, and quality, and the future will be no different.
Many thanks to the sources, too numerous to mention, that provide input to this article. Here are a few of the best links for more facts and deeper reading:
Achieving Cost-Effective Bioprocesses, Randi Hernandez, 2016, BioPharm International, Volume 29, Issue 3, pg 14–19
Angela Faustino Jozala et al, Braz J Microbiol. 2016.
https://www.chaindrugreview.com/pressure-on-pharmaceutical-prices-expected-to-persist/
https://www.reuters.com/article/us-usa-drugpricing-exclusive/exclusive-big-pharma-returning-to-us-price-hikes-in-january-after-pause-idUSKCN1OJ
https://www.bioprocessonline.com/doc/bioprocessing-trends-to-watch-in-0001
https://www.contractpharma.com/issues/2018-01-01/view_features/pharma-industry-outlook
https://www.mordorintelligence.com/industry-reports/global-biopharmaceuticals-market-industry
---
Improve your mAb purification

A simple step to improve mAb purity in any purification method.
---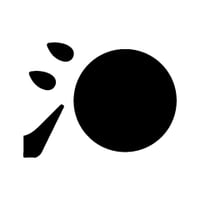 The Bio-Works staff are seasoned and enthusiastic (yes, even a bit nerdy) experts in purification resins, methods and strategies with many years of experience of the ins and outs of this field. We love our job and we'd love to help you do yours by sharing some good solid facts, principles and best practice. In short – "purification made simple".