Enhanced Capture Process - a presentation
January 9, 2020 / The Bio-Works Team
Just before the Christmas break, Lars, Haneskog, Bio-Works R&D Director, presented a new and proven strategy for downstream processing at the New Horizons in Biologics and Bioprocessing conference. It was met with great interest and several enquiries and, for those that missed it, we asked Dr. Haneskog to give us a brief summary of what was discussed.
What was the principle message of your presentation?
That we are proposing a new approach to multistep downstream purification strategies that we call Enhanced Capture Process (ECP) which you can consider applying when you're working with a high-value or sensitive resin. It involves protecting that resin by changing the traditional order of steps to maximally remove harmful impurities and other substances that would otherwise, amongst other things, cause fouling and reduce column lifetime.
Tell us more about the problem that you aim to solve
We can use purification of mAbs as an example. Here the key purification step is carried out with protein A resin, a high-value resin that often is sensitive to repeated, harsh cleaning in place.
The figure below shows the key steps in three variants of a mAb purification scheme (not all steps are included here, e.g. filtration and virus inactivation are left out) in which the protein A resin is usually loaded with crude cell supernatant after harvest.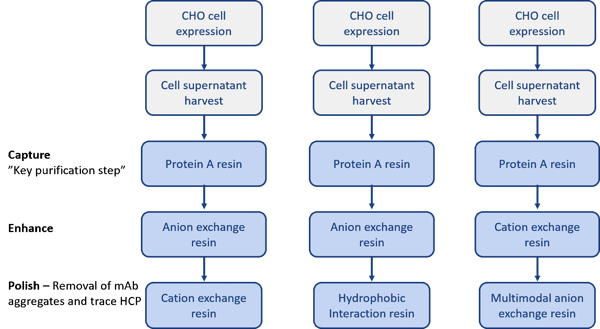 Problems related to loading crude cell supernatant can be substantial:
Dangerous or toxic impurities are introduced at unreduced levels
Fouling is caused by debris or solutes
The lifetime of the resin is reduced due to fouling and repeated, harsh cleaning in place
CHO cell supernatant for example contains IgG (aggregated and miss-folded), host cell proteins and proteases, histones and DNA fragments, chromatin hetero-aggregates, lipids etc.
The basic and traditional strategy illustrated in the figure, can now be modified by changing the order of the steps, with significant benefits to both purity and process performance.
This can also be applied, for example, to processes using high-value RPC columns, as I showed in my presentation and as we have summarized in a poster presentation that you can download here.
And what is Enhanced Capture Process all about?
Bio-Works has promoted the concept of CEP: Capture, Enhance and Polish, for downstream bioprocessing. These three steps focus on: (i) concentrating target substance and removing harmful impurities (Capture), (ii) further removal of bulk impurities (Enhance) and (iii) removal of remaining trace impurities and unwanted structural variants of the target such as aggregates (Polish).
Recently, Bio-Works has established a novel concept, named ECP, in collaboration with key customers, to minimize the bioburden on the most costly or sensitive step in the purification scheme. This has the dual benefits of increasing lifetime of the valuable resin and increasing process performance; e.g. capacity and purity.
We could have called this Enhance-Capture-Polish, but we prefer to give it the more general name "Enhanced Capture Process" as the approach can be varied somewhat depending on the specific process, and not necessarily restricted to a simple enhance-capture-polish.
The central concept of ECP is improving the capture step, where the most valuable resin is often used, by removal of bioburden upstream of this step .
Why did you choose that occasion for this particular message?
Bio-Works has recently, in collaboration with key customers, tested this novel concept and proven it to be very successful. We have published some of the data and feel ready to share it with anyone working with a suitable process. You can easily access some of the data via this article.
If your audience would remember only one thing, what should that be?
If you're working with a costly or sensitive resin in downstream purification, consider whether you can apply an Enhanced Capture Process. And don't hesitate to contact us for ideas or advice! You can also read our blog articles and various data publications for more inspiration.
All product and company names marked with ™ are trademarks or registered trademarks of Bio-Works or of the respective trademark holders. Use by Bio-Works of trademarks of other holders does not imply any affiliation with or endorsement by them.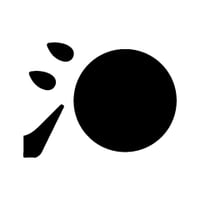 The Bio-Works staff are seasoned and enthusiastic (yes, even a bit nerdy) experts in purification resins, methods and strategies with many years of experience of the ins and outs of this field. We love our job and we'd love to help you do yours by sharing some good solid facts, principles and best practice. In short – "purification made simple".